Homemade Dog Food Recipes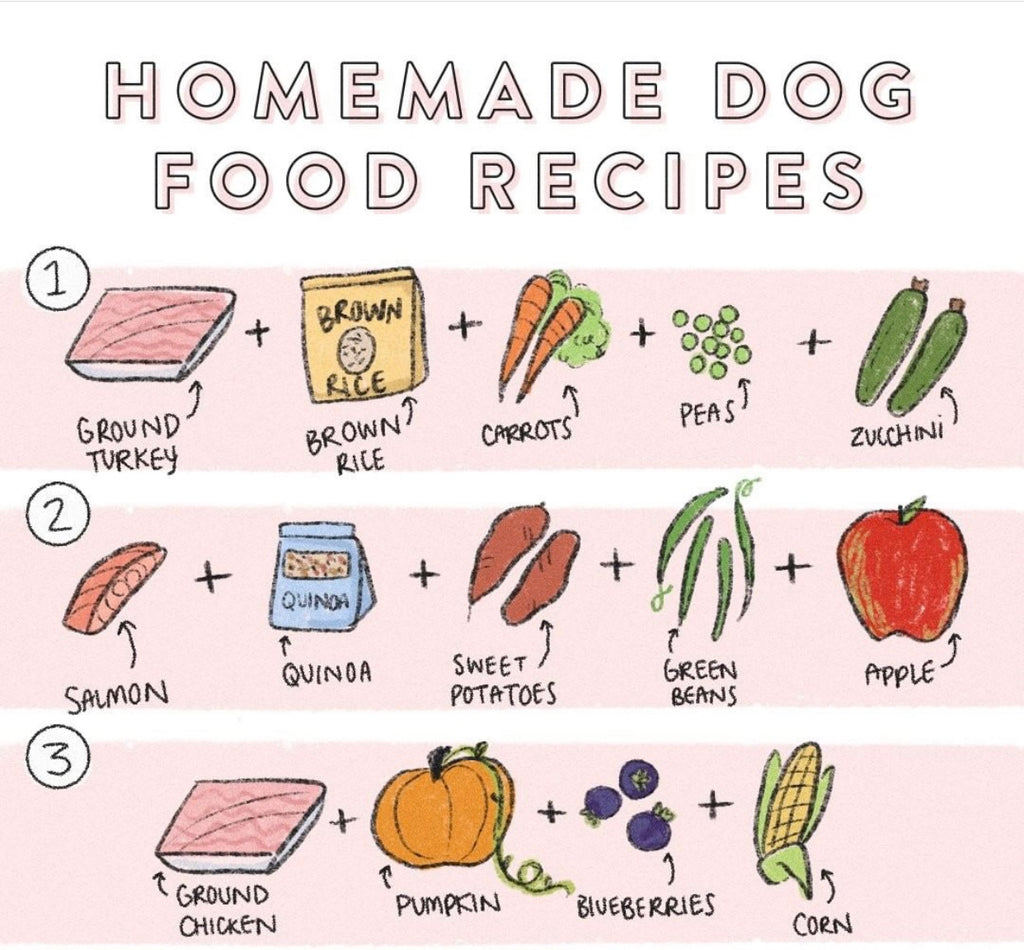 Have you ever considered making your own dog food after seeing those commercials about all the nasty ingredients in their store bought chow? Or perhaps your pup has a special diet and you are spending a fortune on expensive dog food. Homemade dog food has a ton of benefits and is honestly not that difficult or time consuming. First, make sure to consult this list of foods your dog should not eat https://www.aspca.org/pet-care/animal-poison-control/people-foods-avoid-feeding-your-pets, and be aware of any allergies your dog may have. It is also a good idea to introduce new foods to your dog slowly in case they are sensitive to certain ingredients. Here are 3 yummy recipes to help you get started!
GROUND TURKEY + BROWN RICE + BABY SPINACH + CARROTS + PEAS + ZUCCHINI
https://damndelicious.net/2015/04/27/diy-homemade-dog-food/
SALMON + QUINOA + SWEET POTATO + GREEN BEANS + APPLE
Ingredients:
1 1/2 cups quinoa
2 tablespoons olive oil
3 pounds salmon fillet (boneless)
1 large sweet potato, shredded
2 cups green beans (canned or frozen)
¼ cup apple, cored and chopped
Instructions:
In a large saucepan, cook quinoa according to package instructions; set aside.
Heat 1 tbsp of olive oil over in a pan medium heat. Add salmon until fully cooked (3 to 4 min each side). Remove from heat, flake apart and double check for and remove any bones.
Heat another tbsp of olive oil in a large pot over medium heat. Add sweet potatoes. Cook until soft.
Stir in green beans, apple, flaked salmon and quinoa.
Let cool completely.
GROUND CHICKEN + PUMPKIN + BARLEY + BLUEBERRIES + CORN
Ingredients:
1 1/2 cups pearled barley
1 tablespoon olive oil
3 pounds ground chicken
1/4 cup blueberries (fresh or frozen)
1 small corn cob (fresh, shucked)
8 oz. canned pumpkin (no salt)
Instructions:
Boil water in pot. Add corn for 5 min. Remove and let cool before cutting kernels off the cob.
In a large saucepan, cook barley according to package instructions; set aside.
Heat olive oil in large stockpot or Dutch oven over medium heat. Add ground chicken and cook until browned crumbling chicken as it cooks.
Stir in barley, corn, pumpkin and blueberries.
Let cool completely.
Source: @purewow
Blair Erwin